July 6, 2009
Affinity Joomla Template
Affinity Theme core feature is the Sortable Elements which allows for movement of modular rows, individual positions and stacks of modules.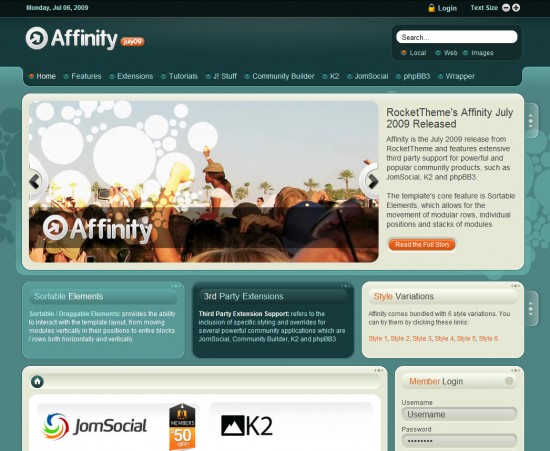 Affinity Joomla theme has the following features:
JomSocial Integration
K2 Styling
Community Builder Support
Sortable Elements
Complex Typography
RT Extension Styling
Javascript Form Styling
Multi-Column Menu
RokMoomenu, Suckerfish, Splitmenu menus
6 Preset Styles
35 Module Positions
FF3, Opera 9.6, Safari 3, IE6,7,8 Compatible
W3C XHTML 1.0 Transitional. W3C CSS Valid
Price: $50 60 Days Club Membership | $75 180 Days Club Membership | $300 365 Days Developer Club Membership
Demo | Download Affinity Joomla theme
Previous Post and Next Post
Get HostGator Hosting For 1 Penny!!!
Click Here
and enter
hgc25
coupon code
Leave a reply